The popularity of 'Avengers: Endgame' also reaches online porn sites. PornHub has released its particular list of the most wanted heroes and yes, it has surprised us.
The theory says, and we believe it, that something is not very popular if it has not been made porn of it. Trump has X movies based on his person, Game of Thrones there are more versions for adults than seasons on HBO and the characters of ' Avengers: Endgame' are not free to occupy the top search positions on sites like PornHub.
With the release of the last movie in the series, which is going to be a blockbuster for being the perfect ending to 'The Avengers', searches have skyrocketed and thanks to a ranking published by PornHub we already know which is the superhero that awakens more XXX fantasies among the fans of the Marvel films.
Curiously, the ranking is led by Captain Marvel, the last to arrive. The character played by Brie Larson hits the table (with Thanos' fist) to take advantage of the second most sought after the Black Widow. Scarlett Johansson has been in all the movies of 'The Avengers' as Natalia Alianovna Romanova, aka Black Widow, but it seems that PornHub users like the news more.
Another surprise, surprise. The bronze is for Spiderman. The more thongs ( although now it is getting fit ) and the youngest of the Avengers is placed in third place above the muscle mass of Hulk or the typical Yankee appeal of Captain America.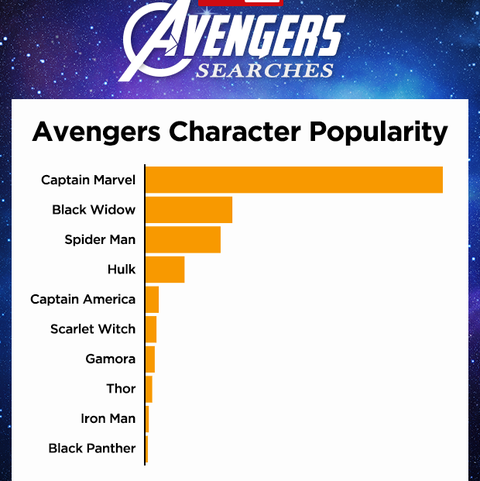 And in the queue, almost asking please Thanos to remember them, Thor, Iron Man and Black Panther. But, what have they done this triplet of heroes to occupy the lowest positions in the ranking? Of Iron Man, which is all plastic, we could wait for it but Thor-Hemsworth has his point and in Wakanda sure Black Panther is an Adonis.