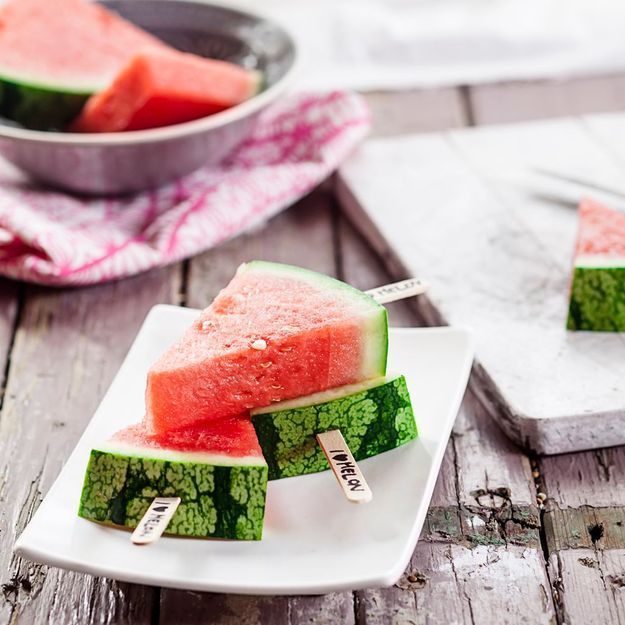 Summer is the perfect season to lighten your plate. The fresh fruits and vegetables, full of sun, bring a maximum of taste to our summer dishes, and this same inversion of raw food. The perfect opportunity to fill up on vitamins and fiber with plenty of fresh fruit. Here are 5 to register on the menu without hesitation.
THE WATERMELON
Nothing new under the sun, the watermelon is the least caloric fruit with 34.7kcal / 100g. A sip of water and delicately sweet, it is savored as well as nature, transformed into the smoothie, or served in the salad with spinach shoots and some cubes of feta cheese.
THE STRAWBERRY
On the second step of the podium of the lowest calorie fruits, we find the strawberry with 34.9 kcal / 100g. A delight for the beautiful days, which is mostly savored nature, croquet, but also marries ideally with basil and mozzarella. The ideal fruit when you watch your diet.
BLACKBERRY
With 41.1 kcal / 100g, blackberry is perfect for snacking, or savored directly during picking, for regressive pleasure. It can also be cooked in pie or pie, but in this case, watch out for added sugar and fat.
THE MELON
Like the watermelon, the melon is ideal to fill up with water while having fun. With 41.9 kcal / 100g, it has the advantage of being "consistent" and calms our cravings in an instant. Bonus point: the melon is savored as raw as cooked, in skewered version.
RASPBERRY
No worries with raspberry and its 46.3 kcal / 100g. Nature slipped in detox water or prepared in a salad with strawberries just cut in half, all perfumed with a little rose water, the raspberry brings the right dose of acidulated to our summer.