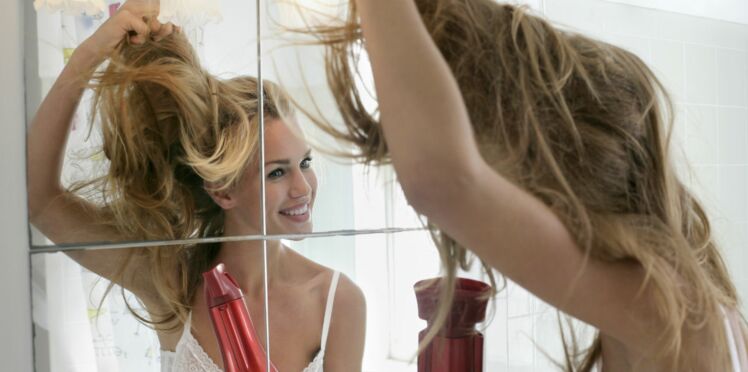 Do you want a perfect blow-dry, as if you are going out of the hairdresser's to work, dine or dance? Follow these steps to get the perfect hairstyle.
1 / Be well equipped
Before tackling your hair, start by choosing the right tools. You need a round brush adapted to your lengths: choose a wide model if you have very long hair. For afro hair, a ceramic brush is ideal, while boar bristle brushes are ideal for fine hair. As for your hair dryer, opt for a powerful ionic model to avoid static electricity.
2 / Dry your lengths
After washing and rinsing your hair, it is important to wring well before drying. For successful blow drying, lengths should not be waterlogged. After brushing, wear a thermal protective spray to protect your hair from heat, especially if your hair fiber is particularly brittle and fragile. Then take your hair dryer: choose the fast speed and cold air option to dry your lengths by smoothing them with your hand. Attention, the goal is not to have the hair completely dry! It must be still a little wet before going to the blow-drying stage.
Read Also: The easiest 5 home remedies for removing unwanted hair
3 / Wick by a wick
To get a perfect blow dry, start by separating your hair into several parts. Take your hair dryer in one hand and in the other hand your round brush: wrap a wick from the bottom around the brush. Little trick for a successful brushing: change the heat. Warm air to soften the hair fiber, then cold air to tighten the scales and obtain smooth lengths. If you want to bring a slight ripple to your hair, turn your brush slightly inward: effect "wavy" assured!
Is your hair thick or frizzy? To facilitate smoothing, you can apply a moisturizer before blow-drying, such as shea butter or vegetable oil.
4 / Fix the hairstyle
To keep your brushing all day long, you can apply smoothing serum on the lengths and ends. Better than the classic lacquer, the latter helps to limit the appearance of frizz. It also brings softness and shine. There are also anti-frizz creams to protect the hair fiber from moisture. Finished the arabesques on the forehead and the hair that swells!